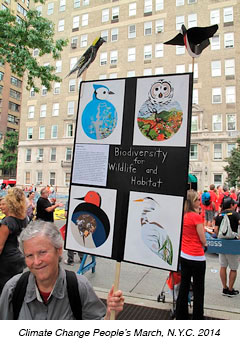 I connect Earth and Art to make visible the relationship between habitat, plant and animal life. My artwork explores the impact of ecological issues. I put a face on the beauty of land and it's inhabitants. I study the shades of color, the living light linking roots to plants, plankton to sea. My paintings re-invent the tradition of Constructivist Art as constructions, new symbols for social change.
Since 2006, I have worked at the Featherbed Lane Bird Banding Station in the Sourland Mountains of New Jersey. I see first-hand the life cycle of birds and the conditions and habitat in which they live. In 2010, I participated in a project restoring the Spicebush plant in the understory of the forest, presently overtaken by Japanese Stiltgrass. This experience was inspiration for my painting "Spicebush". Observation of wildlife has informed other paintings as well, such as "The Wood Thrush and the Land Snail". The Wood Thrush is rapidly declining in the eastern deciduous forest due to the depletion of its invertebrate prey, the White-lipped land snail.
One of the great mysteries in the ecological succession of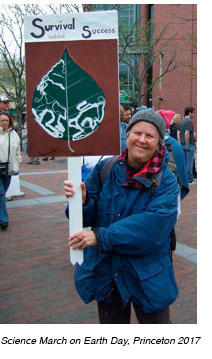 forest life is how in some years groups of oak and beech trees produce huge numbers of seeds. I have seen this in the forest where I work. The painting "Mast Year" portrays this interesting phenomenon.
The Atlantic Migratory Flyway in the Sourland Mountains of New Jersey is an important stopover for migratory birds where their routes lead them to and from Neotropical and Arctic tundra summer and winter breeding grounds. "Migratory Route of the Arctic Tern" has the migratory route painted on it's back. "Resting on Ice, Resting on Land", the Walrus and the Arctic Circle is one among other paintings about Earth's geographic poles.
Since 2016, I have been involved in a project: "Ecological Leaf Sculptures" where eleven leaves are outlined in stone, situated beneath the trees they are of in Graeber Woods, Franklin Township, New Jersey. The stone leaves are alongside 96 acres of trails meandering through forest, meadow, stream and marsh. I lead Walking Tours to educate the public about the understory of the forest. Ecological Leaf Sculptures is an evolutionary study of the shifting changes happening before our eyes.